Latest equipment and outstanding technology that opens up new possibilities in metal processing
We process all kinds of metals into all kinds of shapes.
We responds to the various needs of our clients with our outstanding technology and integrated production lines.In addition, processing technology in the manufacturing process, in-house development of production equipment, and a high level of quality control support the stable supply of the products.
We will continue to proactively engage in technological innovation in order to discover new possibilities in metal processing and meet the increasingly diverse and specialized needs of our clients.
Management flow
We offer a consistent process to meet diversified and specialized needs.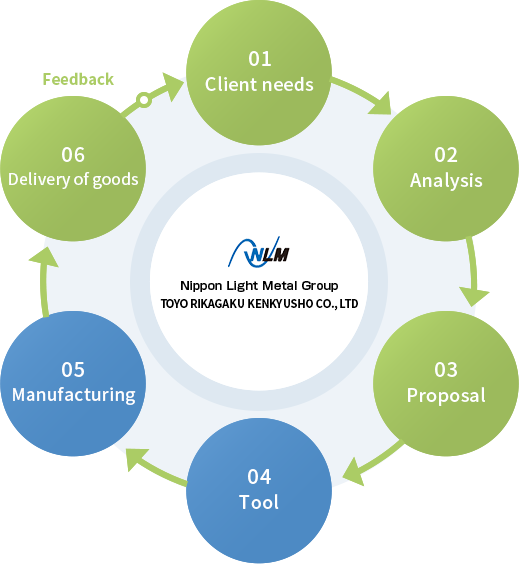 01.Client needs

We accurately understand the needs of our client and use this information to guide our product development.

02.Analysis

A detailed analysis of the manufacturing process is conducted in preparation for productization.

03.Proposal

Based on the analysis, we propose specific processes such as process flow, tools, and equipment to the customer.

04.Tool

We design and produce original tools. We also make prototypes for small lots.

05.Manufacturing

Our integrated production line and reliable technology and equipment enable us to manufacture high quality products in a stable manner.

06.Delivery of goods

Reliable quality control and speedy delivery management are also advantages of the integrated production system.
Manufacturing workflow
We select the most suitable process for the characteristics of the product and build an original production line for each product.