Titanium surface treatment and photocatalyst
Various surface treatments used for titanium
Color anodizing for titanium
An ultra-thin, transparent oxide layer is formed on the surface of titanium, changing it to a brightly colored surface.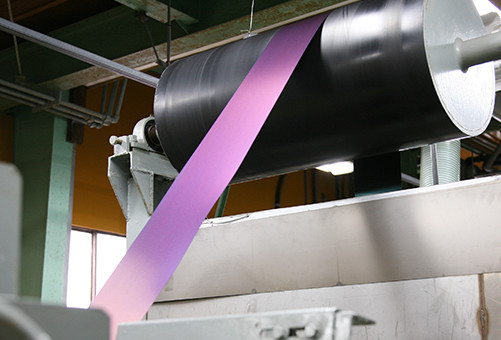 Features
The path of the light changes depending on the direction of view or the direction of light incidence, creating a change in the color tone. It makes the color deep and vivid.Since the color is generated by an ultra-thin, transparent oxide layer, it is possible to create a colored surface by taking advantage of the treatment applied to the underlying titanium, such as a mirror finish.
In addition, the color does not fade with light at all and has good weather resistance.It also has good adhesion and can be bent and lightly stamped after coloring.
| | |
| --- | --- |
| Beneficial impact | Improvement of appearance by coloring |
Color samples
We offer 130 colors as "Toyo Titanium Color."You can also request a graduated color.Please specify the color tone of your order with the color sample number. (No. indicates the anode voltage.) Material used : Nippon Steel's TranTixxii®
Please note that it may not be possible to reproduce accurate colors due to the influence of the monitor environment and other factors.We can send a color sample book to you by mail upon request. Feel free to contact us for more information.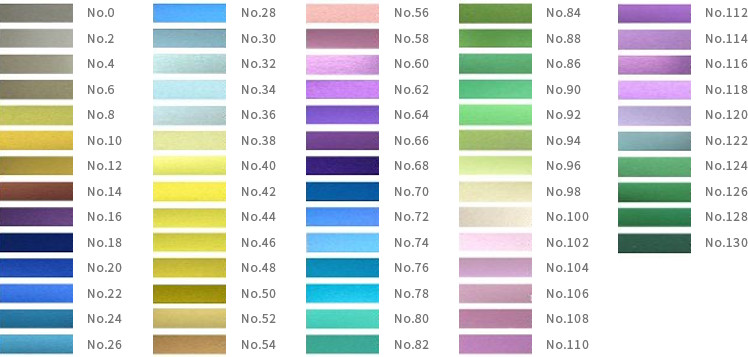 Product Examples
Kitano Tenmangu Shrine (roofing): greenish-blue

Hotel Marques de Riscal: wine

Nara National Museum (roofing): Corten

Kokura Castle Garden: Corten

Manpuku-ji Temple (roofing): greenish-blue

Uchinada Town Hall (roofing): green

Kyushu National Museum (roofing): blue

Decorative monument
Body: colored titanium, wings: colored stainless steel

Principle (Manufacturing method)
A transparent oxide layer with a thickness of about 10-300 nm is grown on the surface of titanium by anodizing, which changes the surface to vivid color.Although the oxide layer itself is colorless and transparent, white light including the light of various wavelengths is reflected on the surface, and the light reflected on the surface of the oxide layer and the light reflected at the interface between the metal and the oxide layer cause an interfering effect, making the light with an intensified wavelength appears as a color.
Since the intensity of the wavelength is determined by the thickness of the oxide layer, the desired color can be achieved by precisely controlling the thickness.The principle of coloration is the same as that of a rainbow caused by a thin transparent film of soap bubbles and a rainbow caused by a thin layer of oil and fat floating on the surface of the water.With our continuous coil coloring line technology, it is also possible to color long coils.
Available sizes
| Material | Dimension | Thickness |
| --- | --- | --- |
| Sheet material | 1.000mm×3.000mm | Sheet thickness: 0.3mm-0.8mm |
| Processed goods | 1.000mm×3.000mm | Thickness: 350mm |
| Coil material | Coil width: 200mm-650mm | Sheet thickness: 0.3mm-0.8mm |
Four methods of coloration
For your reference : Introduction of the brand of titanium we cooperate with.
We recommend Nippon Steel's TranTixxii to use.
It is the world's first and only designing titanium material that can minimize discoloration over time.
Our titanium surface treatment process supports the bran of TranTixxii.
Pickling
In this method, titanium is immersed in a special acid solution to completely remove the natural oxide layer on the surface, followed by anodizing.It is characterized by the formation of a completely clean anodic oxide layer, which results in extremely vivid colors.This coloration method is ideal for monuments, signage and accessories.

Anodizing without pickling
In this method, the surface of titanium is degreased only and then anodized.It produces a subdued color on the surface of titanium due to the compound layer formed by the natural oxide layer and the anodic oxide layer.This is the ideal coloration method for building materials (roofings, walls, etc.).
It can also be used in continuous coil lines, which reduces coloring costs compared to batch coloring.

Titanium greenish-blue coloring
By applying a green color to the alumina-blasted plate, it creates a color similar to the greenish-blue color of copper.And even if it develops into a different color, it can still look very subdued.
Titanium does not corrode and requires no maintenance, making it a low-cost material for long-term use.It is used as an alternative to copper roofs that have been corroded by acid rain, such as the roofs of shrines and temples.

Titanium Corten coloring
Titanium is anodized in a special solution developed by our company and can be colored in matte brown, purple, and gray.As it looks very subdued, it is used for the roofings of temples, museums, and galleries.
We hold intellectual property right jointly with Nippon Steel.

Anodized photocatalytic titanium coating
Features
Anodized titanium, developed jointly by our company and a major steel manufacturer, has an excellent photocatalytic activity by just anodizing without any special pretreatment.
Unlike the coating type, which is currently in practical use, the surface does not peel off, and the effect lasts almost permanently.Test data shows that this titanium has a much higher photocatalytic capacity than the coating type.
Also, it is possible to anodize in the coil line, which allows the production of photocatalytic coating at a low cost.
Production method and features
Test sample
Types of material
Other features
Cut plate
Coil
formed products
Processed goods
CN80
◯
◎
△+1
◎
High production efficiency, possible to produce foil
Draw forming possible
NCN80
◯
◎
△+1
◎
Visible light responsiveness
Ordinary oxidized titanium only shows photocatalytic activity in ultraviolet light of wavelengths of 400 nm or less.For example, outdoor sunlight is inefficient because it contains only 3-4% of UV light and cannot utilize the majority of visible light.
Our anodized photocatalytic titanium has been confirmed to be responsive to visible light and can make effective use of light energy.
Performance test results
Measurement method: Wet methylene blue digestion method (JIS 1703-2)
UV light source: Black light (365 nm) 1 mW/cm2
Test sample: CN80H
Measuring instrument: Spectrophotometer
Judged to have photocatalytic activity at a decomposition activity index of 25.5 (μmol/L/min)5 or higher.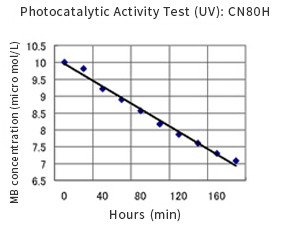 Examples of utilization
Air purifier photocatalytic filters, water purifier photocatalytic filters, soil decontamination equipment, interior walls, and construction materials that require antibacterial properties, building walls in areas prone to contamination, roofings, etc.
Laser patterning
Features
A variety of appearances can be achieved by etching, bleaching, and coloring bare titanium or colored products with a laser marker.It is distinguished by its ability to change the pattern as desired, and it is also possible to create patterns for a wide variety of products in small lots.
Examples of utilization
IT equipment chassis, roofings, walls, signboards, monuments, ornaments, trinkets, outdoor equipment, sports equipment, parts for marine use, etc.
Electrolysis polishing / Chemical polishing
Features
The electrolysis polishing and chemical polishing technologies we have developed overturn the conventional wisdom that titanium is a difficult material to work with, making it possible to gloss the workpieces with complex shapes and thin plates by polishing.It is also ideal for polishing and deburring the inner surface of containers.
It can also be combined with anodizing to create a vividly colored surface.
Examples of utilization
The inner surface of titanium containers, titanium outdoor products, ornaments, the inner surface of titanium piping parts, titanium watch parts, lath nets, IT equipment chassis, eyeglass parts, trinkets, etc.